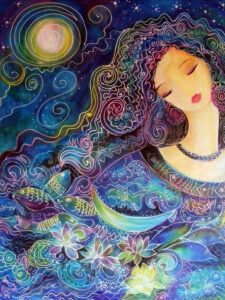 Ronnie Picard, "Goddess of Water"
The Full Moon appears on Sunday, February 5th at 1:29 pm ET.  It's a time of heightened energy, which brings growth, germination, and intensified energy to the earth. This Full Moon is electrical with aspects to Uranus, the planet of change and New Age realization.
All planets are direct, making life navigation easier, and multiple aspects soften the harsher energy of aspects with Uranus. Additionally, there are aspects with Chiron (wounded healer) that can promote healing and understanding of the self., and the elements of fire, water, air, and earth are evenly distributed throughout the chart.
 Sun (life) is in Aquarius, creating an emphasis on humanitarian action and group connection. Moon (emotion) is in Leo, a fire sign that rules the heart, giving courage and resolution. It's helpful to contemplate our relationship and desire to help the world (or the self) with the heart and mind. Moon in Leo gives power and awareness through self-expression.
Sun trines Mars (physical action), giving confidence and strength when planning the next steps in life. It also increases physical energy. Moon (emotion) sextile Mars aligns emotions and actions. It's a good time to listen to higher emotions and inner direction with both small and large actions. Moon trine Jupiter (expansion, good luck) indicates that positive emotions lead in the right direction for growth, optimism, and expansion.
Sun conjunct Saturn (limitation, karma) marks a time to loosen our beliefs about stability and happiness by releasing whatever tethers us to the past. Hard work, discipline, and patience are part of working with Saturn's energy. (What does the universe want you to do, and how should you do it?) Moon opposes Saturn (limitation, karma), meaning we may experience feelings of sadness, loneliness, or boredom. (All humans experience this from occasionally. Use the time to study or practice raising your vibration.)
Sun (life) and Moon (emotion) square Uranus (sudden change, quantum field), marking another period of alternately low and high vibrations. Uranus can help with finding a place of universal change, or it can give feelings of dissatisfaction, making abrupt change or rebellion seem attractive. It makes us feel restrictions and gives the desire to break free from them. (Don't give into it. Use your abilities to manifest what you want.) Moon square Uranus can cause mood swings, irritability, and impulsive feelings. (Moon tends to affect the home life.)
Uranus increases the desire for independence and freedom, which is wonderful—if we seek it through calm, balanced emotions and thoughts. The best idea is remaining flexible, opening to opportunities, and realizing that we may crave a different life or changes in the way in which we live.
Mercury in Capricorn, an earth sign, is practical and conservative. It's interested in applying knowledge for structure and gain. Mercury (thought) trines Uranus (sudden change, quantum field), which can give brilliant thoughts and genius with understanding the energies of the universe.  Mercury sextile Neptune (idealism, mysticism) heightens intuition and helps in creating methods of aligning idealism and practical life. Mercury conjuncts Pluto (underworld, transformation), and this gives power with thought, expression, and communication.
Venus (love, relationships) is exalted in Pisces, a water sign, reflecting qualities of cosmic love, harmony, and beauty. Venus squares Mars (male, overall energy, assertion), which may cause conflicts with the opposite sex or difficulty in understanding the other person's point of view. Venus sextile Uranus (quantum field, sudden change) accelerates creativity, spontaneity, and the desire to express our inner voice.
Mars (male, overall energy) in Gemini, an air sign, makes the mind active and can cause restlessness. Mars has been in Gemini for many months, and it causes difficulty with mental focus and completion with tasks. On the positive, it can increase creativity and deepen the mind. Mars sextile Jupiter (expansion, good fortune) focuses on honesty, achievement, and possibly opens the door to new opportunities.
Jupiter (expansion, good fortune) in Aries, a fire sign, heightens our desire for both the spiritual journey and physical achievement. It's bold in this placement and asks that we commit to our dreams through action.
Saturn (karma, time) is ending its time in Aquarius, which may create a review of lessons learned in the past two years. Saturn moves into Pisces, a water sign, on March 30.
Uranus (sudden change, quantum field) remains in Taurus with an emphasis on earth. Neptune (illusion, mysticism) sits in Pisces, uniting the world through emotion and asking for our discernment between illusion and truth. Pluto (underworld, transformation) in Capricorn, reveals mysteries about the structure of the world—including politics, the material world, and finances—which affect the earth.
Chiron
Sun (life) sextiles Chiron, the wounded healer, which harmoniously aligns the mind, will, and creative nature. Moon (emotion) trine Chiron gives space for healing old wounds and emotions.  Mars (energy, male) sextile Chiron gives the sacred warrior aspect of cutting through old patterns and taking right action. Jupiter (expansion, good luck) conjunct Chiron creates a time when Jupiter brings good luck and/opportunities. If we can understand and accept our wounded nature, we can receive new gifts and good fortune.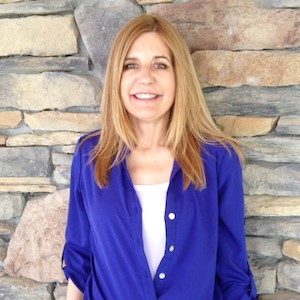 Julia Griffin, intuitive healer and owner of One True Self, began her work fifteen years ago under the tutelage of real wolves. Following their direction, Julia sees and reads energy, including animals, plants and people. She works with people in session to find their resonance with the soul, clearing patterns and alignment with their inner path. If you would like to seek additional spiritual change and insight into your life, please contact me for information about an intuitive session.